The Victorian government begins the project summary with, "With quarantine continuing to be a critical part of the Australian response to the COVID-19 pandemic, the Victorian and Australian Governments have committed to building a purpose-built quarantine accommodation hub outside Melbourne's CBD, to combat and protect the community from the highly infectious COVID-19 virus."  They added, "COVID-19 quarantine is an important feature of our public health response to COVID-19, and this new purpose-built hub will be designed and built with the primary purpose of ensuring the safety of our community."
The master plan includes onsite services tailored to be delivered alongside "strong infection control and prevention measures." The first stage will provide 500 beds, with a second stage doubling capacity a short time later.  It is also designed with the ability to increase to up to 3,000 beds as part of a scalable build if a larger facility is determined to be required at any point.
The new hub, officially called the Centre for National Resilience in Melbourne, will also be designed with relocatable cabins so that it can be used for "alternative and future needs, including ongoing quarantine arrangements, crisis accommodation and other emergencies."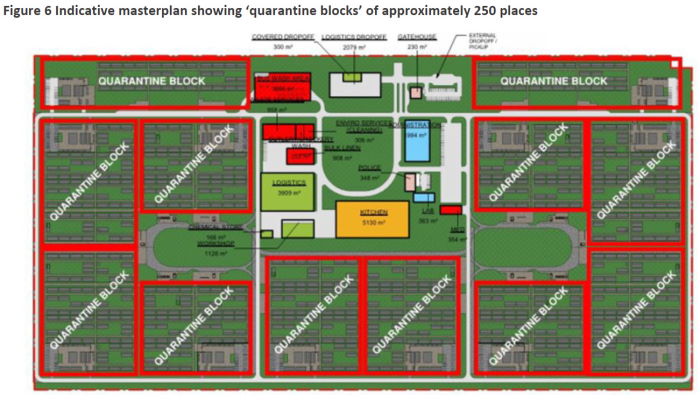 Many are calling the "purpose-built Alternative Quarantine Accommodation" a vaxentration camp, a reference to the concentration camps the Nazis operated from 1933 to 1945 in Germany and German-occupied Europe where people of a specific heritage (Jews) or behavior (homosexuals) were imprisoned.  These groups of people were viewed as enemies of the state and were routinely used for experiments and murdered away from public view.
A letter sent out to local residents in Mickelham:
It appears that this state of Victoria believes that COVID-19 is here to stay …
"With COVID-19 quarantine requirements expected to continue in some form at least over the next two-to three years, the Victorian Government has further committed to investigating alternative models of mandatory quarantine, including purpose-built Alternative Quarantine Accommodation outside of Melbourne's Central Business District."
The Emergency Management Act 2004 gives the State Coordinator and authorized officers broad powers to manage and coordinate the response to, and recovery from, the outbreak of COVID-19 within South Australia.  These emergency powers allow the State Coordinator and authorized officers to:
Enter and, if necessary, break into any land, building, structure or vehicle (using such force as is necessary);
Take possession of, protect or assume control over any land, body of water, building, structure, vehicle or other thing;
Direct or prohibit the movement of people, animals or vehicles;
Direct a person to remain isolated or segregated from other people or to take other measures to prevent the transmission of a disease or condition to other people;
Direct a person to undergo medical observation, examination or treatment;
Require any person to give information;
Direct any person to assist in exercising any power related to the Major Emergency; and
Do anything else necessary to address the outbreak of COVID-19 within South Australia.
Police removing "sick" people from homes
Teens arrested and pepper-sprayed for not wearing masks
What about the United States?
For those who are curious as to whether these types of camps can be set up in the United States of America, the CDC has already laid the groundwork in their document, Interim Operational Considerations for Implementing the Shielding Approach to Prevent COVID-19 Infections in Humanitarian Settings. They refer to their vaxentration camps as green zones and refer to their shielding approach.
Sources:
https://www.vic.gov.au/victorian-quarantine-hub
https://www.vic.gov.au/sites/default/files/2021-04/Alternative-quarantine-accommodation-hub-project-summary-April-2021.pdf