💨 Get to this page quickly by typing https://fearunmasked.com/treatments
The Agenda
Despite what you see in the media, government and social media outlets, there are safe and effective treatments for COVID-19.  When evaluating medications you should always look at the data and stay away from emotion and fear.  As consumers and citizens we are constantly bombarded by messages with an agenda.  Why do you suppose proven drugs are demonized by the big players?  Could it be that the goal is to promote the vaccines?
For example, most of the first page of a search results on Google will portray both ivermectin and hydroxychloroquine in a negative light.
Typical search result

when typing "ivermectin" into Google:

P

aid ad from the World Health Organization

when searching "hydroxychloroquine" in Google:
Let's do our own research and look at the data to get a better picture of our options.
Ivermectin
Ivermectin is a medication that is used to treat parasite infestations. In veterinary medicine, it is used to prevent and treat heartworm and acariasis, among other indications. It can be taken by mouth or applied to the skin. It belongs to the avermectin family of medications and works through many mechanisms of action that result in death of the targeted parasites.
Ivermectin was discovered in 1975 and came into medical use in 1981. It is on the World Health Organization's List of Essential Medicines and is FDA-approved as an antiparasitic agent. In 2018, it was the 420th most commonly prescribed medication in the United States, with more than one hundred thousand prescriptions.
Louis Gossett Jr., a famous actor known for his movie and TV roles in An Officer and a Gentleman, Iron Eagle, The Bill Cosby Show, Roots, Return to Lonesome Dove and some 200+ other titles, recently had a bout with COVID-19. He was so weak that he could not stand, so he checked himself into a hospital, but he left before being treated.  As his condition worsened, a physician directed him to FLCCC. The famous actor inquired further and asked his physician for ivermectin, which interrupted the SARS-CoV-2 processes. He believes it saved his life.
See what Louis Gossett Jr. thinks about Ivermectin
Joe Rogan, who revealed his COVID diagnosis as well as his treatment regimen that included ivermectin, took to one of his episodes of his podcast to talk about his illness as well as question media coverage of his recovery. CNN host Erin Burnett said he "took a drug intended for livestock." Fellow host Anderson Cooper said, "One of those drugs he mentioned, ivermectin, is something more often used to deworm horses." On the same show, CNN chief media correspondent Brian Stelter said, "When you have a horse deworming medication that's discouraged by the government that actually causes some people in this crazy environment we're in to actually want to try it."
CNN maligned Joe Rogan for taking Ivermectin
There is a mountain of evidence as to the effectiveness of Ivermectin when treating COVID-19.  The site C19Ivermectin.com and its sister site, IvmMeta.com, shows numerous studies and results in favor of this drug.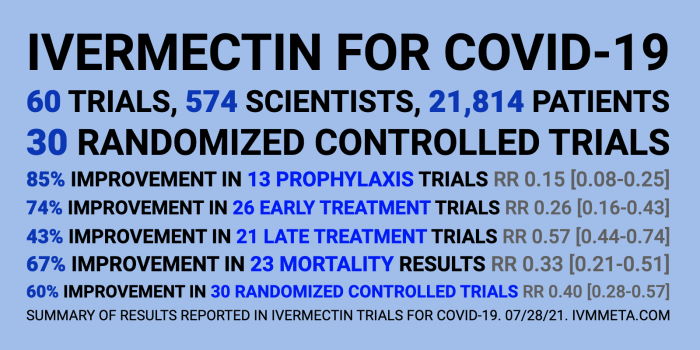 In one such study, Favorable outcome on viral load and culture viability using Ivermectin in early treatment of non-hospitalized patients with mild COVID-19 – A double-blind, randomized placebo-controlled trial, "there were significantly lower viral loads and viable cultures in the ivermectin group, which could lead to shortening isolation time in these patients."
Dr. John Campbell discusses Ivermectin studies based in Mexico, Peru and India
Australian member of Parliament (MP) Craig Kelley promotes Ivermectin (and was deplatformed from Facebook) and tweeted that Uttar Pradesh, a state in northern India with a population of 230 million, "smashed the scary Delta variant" with Ivermectin. Brazil's President Jair Bolsonaro, who himself was deplatformed from YouTube, has also argued in favor of the use of the medication to treat Covid-19.
Front Line COVID-19 Critical Care Alliance, FLCCC, lists Ivermectin as a prevention and treatment protocol for COVID-19.  Since 2012, numerous in-vitro studies began to report highly potent anti-viral effects against a diverse array of viruses, including SARS-CoV-2 along with numerous anti-inflammatory and immuno-modulating effects. Their "totality of the evidence" supporting ivermectin was published in The American Journal of Therapeutics in April, 2021:
IN-VITRO (Basic Science): ivermectin has been shown to inhibit the replication of many viruses, including West-Nile, Zika, Dengue, Influenza, and most recently SARS- CoV-2
IN-VIVO: ivermectin diminishes viral load and protects against organ damage in animal models of SARS-CoV-2 infection and has multiple, potent anti-inflammatory properties.
IN-SILICO: numerous computer modeling studies have found ivermectin to have one of the highest binding affinities to the SARS-CoV-2 spike protein.
PHARMACOLOGIC: unparalleled safety profile over decades, prior WHO guidelines report side effects that are "primarily minor and transient" and experts have found severe adverse events to be "unequivocally and exceedingly rare." Further, the IC-50 against SARS-CoV2 in lung and adipose tissue easily achieved with standard dosing (Caly/Wagstaff personal communication).
CLINICAL OBSERVATIONS/EXPERIENCE: numerous cases series, most notably one published from the Dominican Republic where over 3,000 consecutive patients presented to the ER, were treated with ivermectin, and only 16 were hospitalized and only 1 died. Also, innumerable doctors from multiple countries around the world report observing consistent clinical responses in treated patients with few treatment failure
OBSERVATIONAL CONTROLLED TRIALS (OCT): As of August 8, 2021, the results from 31 OCT's including over 6,800 patients find that ivermectin strongly reduces the risk of transmission when taken either pre-or post-exposure and that ivermectin reduces time to recovery, rates of hospitalization, and mortality, including the propensity-matched study of Rajter et al which was published in the major medical journal Chest.
META-ANALYSES OF RANDOMIZED CONTROLLED TRIALS (RCT): 27 RCT's including over 3,400 patients have been completed. Meta-analyses find that ivermectin reduces time to viral clearance, hastens recovery, and reduces mortality.
EPIDEMIOLOGIC: ivermectin distribution campaigns in Peru led to far lower COVID-19 case-fatality rates in those regions with widespread use. Further, large "test and treat" programs conducted by increasing numbers of Health Ministries report up to 75% reductions in the need for hospitalization in Mexico City and massive reductions in mortality in the states of Misiones, Argentina and La Pampas, Argentina.

The reports most relevant to public health officials are from the national and regional health ministries that employed "test and treat" programs with ivermectin:
Mexico City – The IMSSS Health Agency compared over 50,000 patients treated early with ivermectin to over 70,000 not treated and found up to a 75% reduction in need for hospitalization.
La Pampas, Argentina – Health Ministry compared over 2,000 patients treated early with ivermectin to over 12,000 without treatment and found 40% reduction in hospitalization and 35% less ICU or death in older patients.
La Misiones, Argentina – Health Ministry just analyzed the first 800 of 4,000 ivermectin treated patients and compared to the rest of the population over the same time period, they found a 75% reduction in need for hospital and an 88% reduction in death.

Finally, in both "long-haul" COVID and post-vaccine syndromes, ivermectin is proving to be highly effective at eliminating symptoms based on the rapidly accumulating clinical experiences of the FLCCC and a number of allied experts that co-developed the I-RECOVER protocol, centered around the use of ivermectin in these syndromes.
Jump to How To Get Safe, Effective Medications for COVID-19 section to see how to get ivermectin.
Tokyo Medical Association Chairman holds press conference recommending Ivermectin to all COVID patients
Hydroxychloroquine
Bayer invented the medicine chloroquine in 1934, and it has been used for decades to treat malaria throughout the world. Hydroxychloroquine was invented during World War II to provide an alternative with fewer side effects.
Hydroxychloroquine, sold under the brand name Plaquenil, is also used by patients with autoimmune diseases such as lupus and rheumatoid arthritis to control inflammation.
The data from several hydroxychloroquine trials also suggests it is also a useful treatment for COVID-19.  The site C19HCQ.com shows convincing studies and outcomes in favor of this medicine.
According to the Association of American Physicians and Surgeons (AAPS), hydroxychloroquine has about a 90 percent chance of helping COVID-19 patients. The article states, "The antiviral properties of these drugs have been studied since 2003. Particularly when combined with zinc, they hinder viral entry into cells and inhibit replication. They may also prevent overreaction by the immune system, which causes the cytokine storm responsible for much of the damage in severe cases."
Their executive study from April 2020 declares, "The HCQ-AZ (hydroxychloroquine and azithromycin) combination, when started immediately after diagnosis, appears to be a safe and efficient treatment for COVID-19, with a mortality rate of 0.5%, in elderly patients. It avoids worsening and clears virus persistence and contagious infectivity in most cases."
Dr. John Campbell reviews a Belgium study including low-dose Hydroxychloroquine therapy
President Donald Trump was probably the most famous advocate for hydroxychloroquine. He took it as a preventative measure when one of his staff contracted the virus.
President Trump said he consulted with the White House doctor about taking HCQ. The FDA issued an Emergency Use Authorization for hydroxychloroquine on March 28, 2020 for patients hospitalized with severe cases of COVID-19. The FDA revoked the EUA on June 15, 2020, stating that the "FDA determined that chloroquine and hydroxychloroquine are unlikely to be effective in treating COVID-19 for the authorized uses in the EUA."  Of course, this conclusion contradicts the data in the trials presented here.
In 2005 Dr. Anthony Fauci also promoted HCQ as an effective treatment
Where To Get Safe, Effective Medications for COVID-19: Ivermectin & Hydroxychloroquine
Note: We have no association with either FLCCC, AFLDS, or Push Health, nor have we used any of these services.  You contact these organizations for assistance and use their products and services at your own risk.